Christine Mendenhall, Civil Engineering, Class of 2017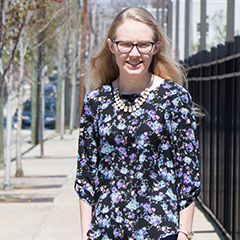 Fascinated by old buildings, in high school Christine R. Mendenhall was torn between architecture and civil engineering. However, after learning that engineering required more mathematics—her favorite subject—she opted for civil engineering.
At Temple's College of Engineering, she took to it quickly—so quickly that it has taken her just three years for the University Honors Program student to earn her BS degree in civil engineering, which she will receive in May. Thanks to the college's accelerated BS/MS degree program, in another year she also will also have earned her Temple master's degree in civil engineering. The accelerated degree program usually takes a total of five years—4+1—but Mendenhall is on pace to earn both degrees in four years.
"Until another honors student told me he was graduating with his BS degree in just three years, I didn't know it was possible," says the Chalfont, Pennsylvania resident. "But by combining my Advanced Placement credits with one summer session, I realized I could do it. I thought it was cool that I could spend less time and money and get a civil engineering degree that quickly."
Mendenhall, a peer advisor in the college's Undergraduate Advising Office, is also rather surprised by the change in career direction her internships have taken her. Bridges, so far, have supplanted buildings.
Last summer, as a structural engineering intern with HDR Inc. of Plymouth Meeting, Pennsylvania, she worked on 32 different bridges statewide as part of PennDOT's Rapid Bridge Replacement Project. Her duties included using software to design abutments and beam seat elevations. After working as an intern this past semester on a school building project with Pennoni, a consulting firm in Philadelphia, this summer she'll be back to focusing on bridges with another structural engineering internship with WSP Parsons Brinkerhof's Lawrenceville, New Jersey office.
"I got into this because of buildings, but I'm now leaning towards bridges and that's unexpected," she admits. "Still, after I earn my master's degree, I don't know if I'll get a job involving Geotech, like soils and foundations, or a structural job.
"But I definitely want to work for a big company. I really like working on big projects that have big impacts on people."