The now seemingly-ubiquitous shopping cart started out as a sort of engineering solution, itself, back in 1936. Noticing his customers struggling to carry wire baskets under the weight of their groceries, Oklahoma retailer Sylvan Goldman had his eyes on a fix: put the baskets on wheels. But, what if carts become problematic to push?
One senior design team is looking to build on that concept by designing an autonomous cart, aiming to boost convenience and customer satisfaction, particularly for those customers with physical limitations.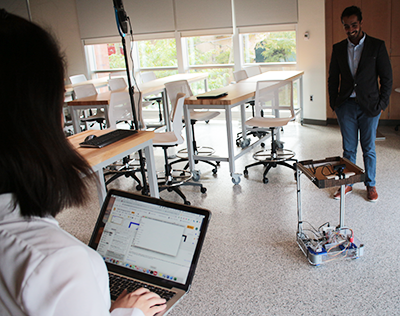 "The goal of our project is to have the cart recognize the right person, and then follow that person through the store as they are shopping," said Ya Xiao, electrical engineering student and the team's project manager.
"The idea came from spending time with my parents at the park," she said. "I thought it would be better to have a cart carrying our stuff, rather than carrying everything with our hands."
The project combined disciplines including electrical and mechanical engineering majors.
"We needed to combine hardware and software components, and test each individually, and also add coding to help control the cart," Xiao said. "Making it autonomous is the hardest part. Even if you follow the steps in coding, we would have to debug the code to solve a problem."
"Two important parts are the camera that will help us detect the person through quick response. It's like a tag the person would wear so the cart can follow them," added Ibrahim Alawad, electrical engineering major, pictured at right with Xiao testing the device. Alawad also described the cart's processing ability through Raspberry Pi and (still in development) an outer covering to keep the mechanical and electrical components safe from spills: because it is aimed to be used in a grocery store, after all.
All of the team members noted the ability to see a project holistically, from concept to execution, and working as a group, as primary takeaways.
"I definitely used everything from my mechanical training on this project: 3-D printing, laser cutting and CNC machining, mechanical design programs," added Weixiao Gao, mechanical engineering team member. "I also learned how to work with my team. Each person has their job, but if something goes wrong, we shouldn't blame them, we should help them and encourage them."
See Smart Shopping Cart I with the rest of his semester's senior design teams on December 6 from 2-4. Learn more>