James Karchner's road to Washington, DC didn't start out with a bang. It was more of a pop, really. One that left the him lying on the worn grass on a Pennsylvania high school football field.
"It was like a balloon popping," James remembered about his ACL tear during a freshman year scrimmage. "But when we went to the ER, they said to ice it up. "After doing what's called a Lachman's Test, it was deemed just a strain. Unsurprising news for someone with naturally-loose joints.
A week after his ER visit, James was back in action, this time for rigorous two-a-day practices in the summer heat.
During a scrimmage, he felt the familiar pop again. The team trainer sent him to an orthopedic surgeon who confirmed via MRI: a complete tear. Five months of rehab were in front of him following ACL reconstruction.
After rehab, reconstruction and simply picking up the sport later than most, James eventually got to play for high school coaching legend George Curry. THE George Curry, with six state championships and three national titles among his more than 400 wins.
By junior year, James was healed. Coach Curry approached James to offer a spot on the kickoff unit. His job? Bust the wedge and allow his teammates to reach the ball carrier.
Playing Dallas that week, his wedge to bust was led by 6'3, 235 lb. Ryan Monk, who would go on to play at Penn State.
"I was 5'8, 185 lbs., soaking wet," James joked.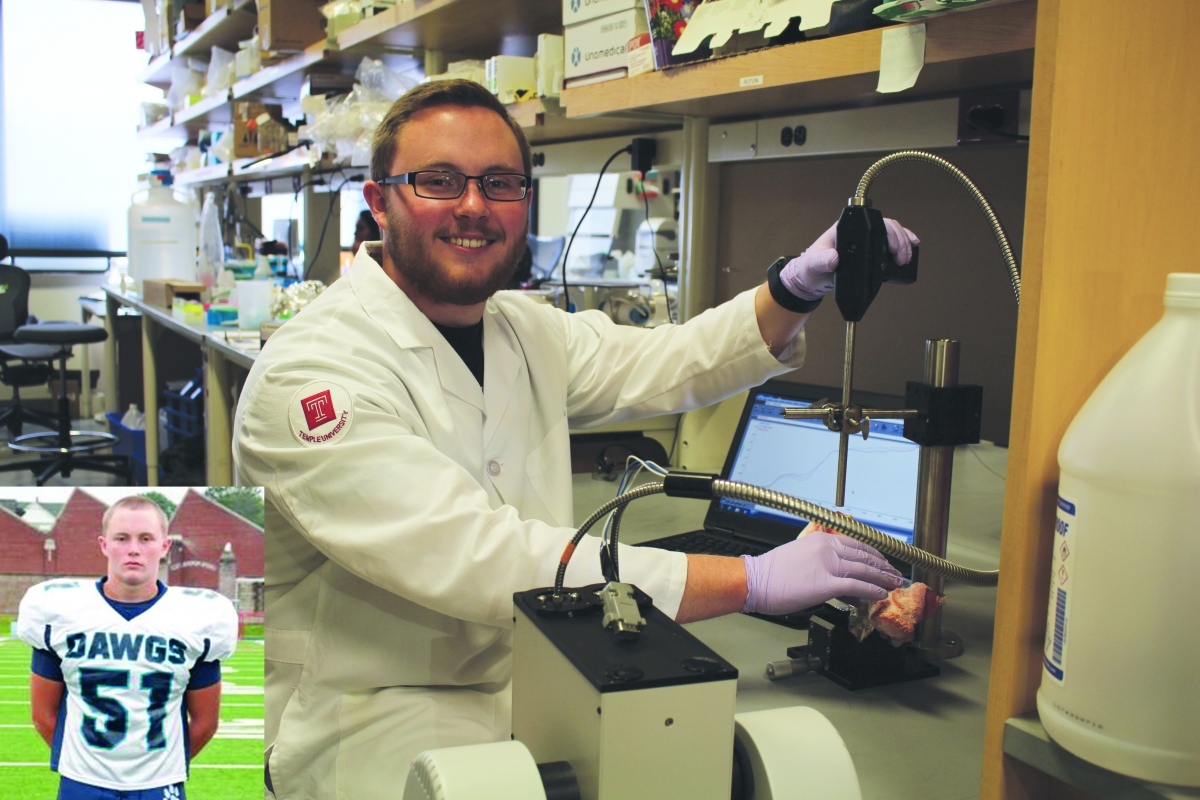 James in-uniform for the Berwick Bulldogs, and recently in Dr. Pleshko's lab.
Opening kickoff, James sped downfield like the tip of the spear, heading straight for Monk. As they collided, James felt his knee twist until he felt that too-familiar pop. After testing it with the team doctor on the sideline, Karchner took himself out of the game.
At 1:00 that morning, his doctor called and delivered the news: he tore the other ACL. By the next morning, surgery was scheduled, officially ending his football career.
From football to musculoskeletal research 
After being exposed to orthopedic surgeons plenty during his recovery, James came to Temple with an eye on medicine. Leveraging a scholarship aimed at students interested in STEM, James landed in a class with his current faculty advisor, Dr. Nancy Pleshko. By sophomore year, his interest in musculoskeletal tissue research had blossomed.
"I was working on a project looking at mechanical properties of articular cartilage, and eventually, how we could evaluate it non-destructively using infrared spectroscopy (the focus of Dr. Pleshko's lab)," he said.
Of the two main regions of a knee, one is low-weight bearing, and another is high-weight bearing. James sought more data on both.
"Essentially, James is questioning: are the properties of the cartilage they're using from the low-weight bearing region to repair the high-weight region the same? Should we be using tissue from one region to repair tissue damage in another," Dr. Pleshko said.
Osteoarthritis, a corollary focus of Dr. Pleshko's lab, affects more than 27 million Americans, according to the National Institutes of Health.
"There's potential for a surgeon to use infrared evaluation during a surgery, get some spectra, and figure out which of the regions of cartilage are most like what needs to be repaired," Dr. Pleshko added.
James has since taken his research to Washington, DC for Posters on the Hill, where he was one of only 60 students chosen to present to members of Congress and their staff, out of hundreds of applicants.
His work—Non-Destructive Spectroscopic Assessment of High and Low Weight Bearing Articular Cartilage Correlates with Mechanical Properties—has been published in Cartilage, a peer-reviewed journal, quite a feat for an undergraduate student. He has his eyes set on a joint MD/PhD program and continuing his research.
For James, engineering has allowed him to turn a series of tough breaks into what could be his first big one. First stops among many in a burgeoning career that started on a football field and continued through the halls of Congress.