Four esteemed alumni participated in the evaluation of the finalists and selection of the winning team in this past semester's Senior Design competition.  Meet the judges, what they looked for and get their thoughts about being back on campus.
Taking a break from judging the work of Senior Design finalists, Viral Desai (EE, '87), Pat Ionota (EE, '81), Robyn Finley Younger (CE, '98) and Mark O'Donnell (ME, '85) also got to recount their time on campus, which stretched from the mid-1980s through 1998. For a few of them, finding their bearings amid new construction was the first surprise.
"We used to come in that door right over there," Desai said, pointing to the doors to the right of the lobby elevators that now lead to the Science Education and Research Center (SERC) building. "That used to lead outside."
The group—including two former Gallery of Success honorees—also relived their experience with Senior Design.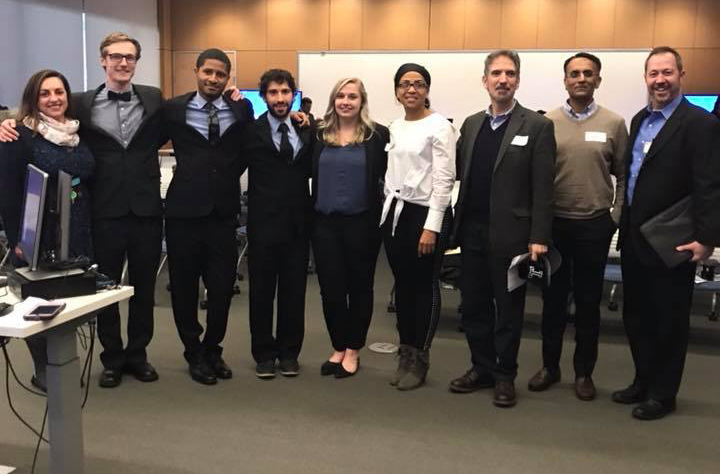 "It's much more collaborative now," said Finley Younger, now-retired from a global director position with DuPont.
"In my time, we had each major grouped individually and doing their own work. Now there's a lot of diversity and collaboration, which I'm excited to see. It represents real-world work and collaboration from end to end."
It wasn't just coming back to Temple, but remembering the University's place in Philadelphia as a magnet for Owl engineers.
"There's a lot of industry in this region. Having the opportunity to tour employers here, that's where things clicked for me, when I was able to see how things were assembled and put together," added O'Donnell, currently in business development with Air Products.
The judges all touched on looking at how teams collaborated both with each other, and with industry experts, as well as how they approached the entrepreneurial and business side.
"Do these projects have broad application," Finley Younger said. "Rather than looking to solve for one, specific problem, can it solve a few? What's the impact in terms of cost, sustainability, how can we get it to market?"
The judges then wrapped up the interview, re-connected with a few remaining faculty from their time at Temple, and awarded the top spot to the "Little Chubby Chip" team. The team—Casey Hobel, Nasir Holliday, Charles Silva, and Mike Struss—collaborated on microfluidic devices.
Want to get involved in the next round of Senior Design judging? Contact Amy Krauss, Associate Director of Development, at amy.krauss@temple.edu.
]]>