Successful careers in research don't just happen in the lab. The Bioengineering Department hosts a summer seminar series with talks on lab safety, careers, and preparation of journal articles, critiques and posters.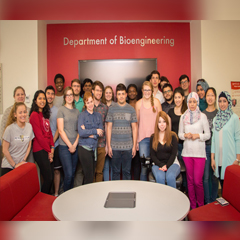 The Bioengineering Department hosted 53 undergraduate student researchers this summer—its largest cohort to date. This was the fourth year for the organized formal weekly seminars geared toward summer researchers.
Most students were bioengineers from Temple, but many were undergraduates from the College of Science and Technology, as well as some visiting from other universities. Some students are University Merit Scholars and Marc Ustar students, but more than half of these students were volunteering their summer time to work in Temple research labs.
In addition to their research responsibilities in their respective labs, many students also participated in a 10-week seminar series that included talks on lab safety, careers in bioengineering, and preparation of journal critiques and posters.
As part of the seminar series, students prepared critiques of journal articles relevant to their summer research and presented them to their peers. This was extremely successful in helping students gain confidence in speaking about detailed scientific principles, and helped students in the audience gain confidence in asking questions when they are surrounded by peers rather than faculty and more experienced graduate students.
All bioengineering faculty had undergraduate students in their lab this summer. The culmination of our summer research was a poster symposium in which all the students had an opportunity to present what they learned over the summer to a panel of faculty, post-doc and senior graduate students. There were 25 students presenting 19 posters from the Bioengineering Department.
The winners of a paid trip to the annual BioMedical Engineering Society Annual Meeting to present their work were Jerry So (senior) and Shreyas Chandragiri (junior) who worked with Dr. Patil on Optical Phantoms.
finalists included Emily Kight (junior) working with Dr. Gligorijevic on cell motility in microfluidic devices, Paul Gehret (junior) working with Dr. Suh in preparing and characterizing poly-lactic acid microspheres, and Claire Moront working with Dr. Pleshko on the infrared spectroscopy of soy proteins.