One Senior Design team wants to lower the cost for certain types of materials testing from more than $20,000 to less than $1,000.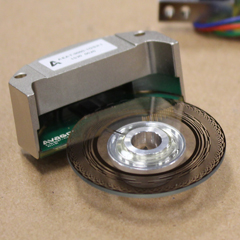 Channel the David Bowie song "Under Pressure" for this Senior Design project.
Mechanical Engineering majors Neil Franciotti, Adam Gaston and Zachary McCorkel partnered with Electrical Engineering major Tongdi Zhou, to adapt an idea from their faculty advisor, Dr. Ren. The focus was to create a device to test the bond strength between two separate materials—such as carbon fiber plastics, using a delicate balance of pressure.
Using consumer products like carbon fiber bicycles or some race car exteriors as examples, the team described what, exactly, would be tested.
"Where this plastic meets the fiber—the bond interface, or adhesion between the plastic and the fiber: that is what our machine aims to test. One of the most common ways these materials seem to fail is when the materials de-bond," Gaston said.
Their device would take a droplet of plastic material and cure it around a single, very tiny fiber. A roller (think of a winch) works in tandem with a device, measuring force as the roller tightens. That droplet is going to eventually strip off the fiber. The peak force where it drops is where they can take the data and find the "interfacial shear strength."
Under Pressure, indeed.
Though this type of testing device currently exists, the team noted they are also "crazy expensive."
"Our aim is to build one for less than $1,000. The idea is to provide it without specialized, add-on software, so it can interface with common lab equipment," Gaston said.
The team has been under pressure, themselves, with all four team members commuting and most working part-time. But they've found ways to work through issues on a regular basis.
"We hit snags all the time but that's a project for you," Gaston said.
There could be practical commercial applications, but the team is committed to get the device back to Dr. Ren for use in his lab.
Follow along our coverage of this semester's Senior Design teams on social media with #TUSeniorDesign2017, and stop by the poster presentation on December 5.