Muhammad "Ali" Ayub, Electrical and Computer Engineering, Class of 2017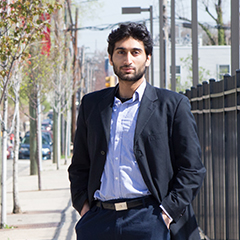 For Ali, Muhammed "Ali" Ayub, the U.S.-born son of Pakistani immigrants who graduated from Cherry Hill East High School in New Jersey, the story behind Temple University founder Russell Conwell's "Acres of Diamonds" speech—where a man from the Middle East named Ali Hafed searched the world for riches without realizing that there had been acres of diamonds in his own backyard—resonates greatly.
Ayub, this spring's student College of Engineering commencement speaker, majored in electrical engineering (computer engineering concentration) He is a dean's list honors student with a perfect 4.0 grade point average at Temple through Fall 2016. Following graduation, he will enter a Northrop Grumman computer engineering training program in Baltimore.
During his time at Temple, Ayub came to view the university and College of Engineering as his own hidden jewels. "I feel connected, I feel like I was supposed to come here and grow mentally."
Ayub, who also minored in computer science, discovered during his freshman year that he both enjoyed and was fascinated by computer programming and engineering. While at Temple, he: served as a student tutor and lab assistant in the introduction to engineering course; conducted a literature review on machine learning under Zoran Obradovic, professor of computer and information sciences; and spent a semester studying at the University of Glasgow. He also interned with a software developer in Philadelphia; and taught Javascript to non-computer professionals.
"At Temple," he says, "we have professors who care and actually make an effort to try to understand what students are going through and, if you make any effort, they will teach you."
"For example, Professor (Dennis) Silage is like an old-school father. He will break you down in his class, then make you a better engineer. And even after I no longer had classes with him, I could go into his office and chat with him for 10 to 15 minutes."
Over the next 18 months, Ayub will rotate through three different computer hardware and software sections at Northrop Grumman in order to find his niche. Within two years, he plans on pursuing his master's degree and, in the future, may also consider teaching. As for Temple, he says, "It was just what I needed. I met the right people and community and grew as an engineer and a person."