Last week, we talked about 'trusting the process' and using the preparation tools you have available to get a jumpstart on your career. This week, it's helpful to have another 76er analogy:
We're talkin' about practice.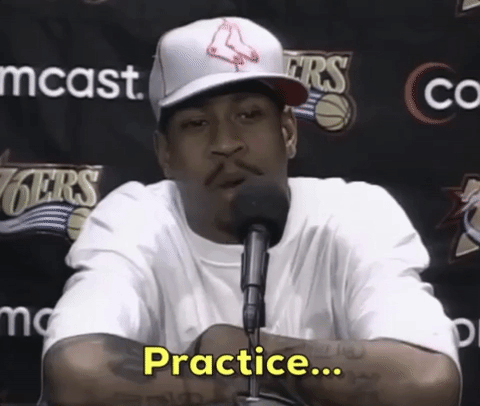 76ers legend Allen Iverson said it 18 years ago, but it's just as important today. Preparing for the Career Fair is like practicing for the big game, and while a professional athlete like Iverson may not feel the need to practice before every game day, it's only because he has been preparing and practicing his whole life. 
With the Career Fair, you won't be cramming a lifetime of practice into just a few days. College recruiting is a very friendly environment, but can still be stressful. Preparation will only increase your chances of success -- and minimize some of that stress. Here's how you can prepare:
Quality control
Have your resume reviewed by me, Mike Madera or a career coach at the Career Center. Starting on Friday, September 27, you will not be able to schedule an appointment with us as usual through Handshake. Instead, Mike and I will be taking drop-ins all day in preparation for the fair. Unsure of where to start with your resume? Check out the resume samples on the College of Engineering TUPortal tab.
Dress to impress
You may be preparing like Iverson, but leave the jersey at home. Think: business suits, dress pants, dress shirts, ties, blazers, and conservative footwear. Dress shoes are a requirement, but try to find ones you are comfortable walking in. 
Yes, there is homework
You will make a much stronger impression with companies at the fair if you show them you have done your research. Focus on 5-10 employers who really interest you. Have a general sense of the products and services they provide, the overall mission and purpose, and the size and structure of the company. You do NOT need to know everything, but you want to show your genuine interest in working for them. 
Prepare your pitch
Have a good idea of what you want to say to companies when you approach them. Keep it brief but give a snapshot of who you are: name, major, grade level, mention your skills and past experiences like internships, research or class projects. Close with your objective: securing a job or internship. See some sample follow-up notes and elevator pitches on the Career Fair Prep Handout on the TU Portal under Career Services. 
Leave on a good note
Ask employers for the best way to follow-up with them and then do so! A common mistake students make after the fair is not following up with employers. Reach out to thank them for their time and (if applicable) let them know you have applied for a position. 
When you have a challenging exam, there is no substitute for studying. Likewise, whether you are a Temple Engineering student or a professional athlete, you should practice. As students looking to gain real-world experience in your field, preparing your game plan before heading to the fair is essential.
You will miss every shot you do not take. Your odds of making the basket will only increase with practice. See you all next Thursday at the fair!