Joseph C. McGinley, an MD, PhD and holder of dual engineering degrees will deliver the commencement address on Friday, May 6.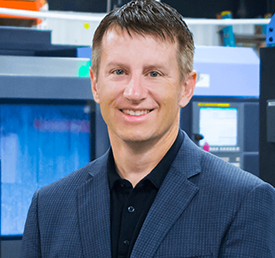 Joseph C. McGinley, an MD and PhD with dual engineering degrees who last year received FDA clearance for a highly accurate orthopedic surgery drill, will deliver the College of Engineering's commencement address on Friday, May 6.
Truly Temple Made, the career of the Wyoming diagnostic radiologist and sports medicine practitioner illustrates the myriad possibilities available to engineering graduates. McGinley earned four degrees from Temple University: BS mechanical engineering '96, MS mechanical engineering '97, MD and PhD in physiology, both '04.
While completing his MD and PhD, a discussion he had with an orthopedic surgeon at the nearby Shriner's Hospital for Children-Philadelphia spurred him to use his engineering skills to develop his IntelliSense Drill Technology®.
Approved for surgical use by the FDA last year, early adopters of the patented drill include Shriners' Hospital and Stanford University Medical Center, where McGinley completed his radiology residency and fellowship. To develop, market and manufacture the drill and similar devices, McGinley founded and is the CEO of McGinley Orthopaedic Innovations LLC, as well as president and CEO of McGinley Manufacturing.
His message to the graduates: "You have a basic knowledge of problem-solving skills and a general understanding of common engineering principles that can be applied regardless which field you pursue. Whether you stay in traditional engineering disciplines or go into medicine, writing or politics, the possibilities for you to be extremely successful are infinite."
"Dr. McGinley has clearly demonstrated how far, and in how many directions, a Temple engineering degree can successfully take you," says Dean Keya Sadeghipour.
Additional speakers will include Frank Murphy '85, LAW '92, president of the College of Engineering Alumni Association and a student speaker, civil engineering graduate Gregory Jones '16.
This summer Jones, of Baltimore, will begin working in Florida with one of the country's largest construction firms, Hensel Phelps, with whom he interned two summers ago. The long-time president of the Temple's National Society of Black Engineers chapter will tell his classmates:
"Whether you're transitioning to graduate school, entering the professional world, striving to be and entrepreneur or exploring some of the endless options, know that from this day forward you have the opportunity to create your own path. There are no guidelines or boundaries, so have the courage to follow your passion and do something that you love."
The College of Engineering commencement will be held on Friday, May 6 at 1:00 PM in the Temple Performing Arts Center.