Dr. Anthony Ferrar's new class combines lecture "pep rallies" with emerging technologies and remote instruction for a new, innovative approach to learning.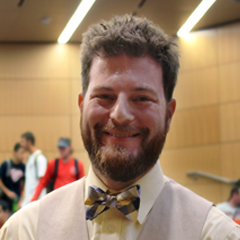 Stepping into your first college course can be daunting. Not only are you adjusting to new content, but also new surroundings, culture and people. Everything, it seems, changes.
According to Dr. Anthony Ferrar, the catalyst behind a brand new engineering course, ENGR 1102: Introduction to Engineering Problem Solving, this is the perfect time to helping students set a path for how to learn, too.
"We're not just teaching them problem-solving skills. We're essentially teaching them how to college," he said in his office this week.
Structurally, the new course combines traditional elements of a large lecture and teaching assistant support with interactive online learning, before moving into team projects. Students approach preparation, attendance (which isn't taken), and building relationships with peers—so they can get through a large group experience without "feeling like a number," he said.
"It's a hybrid thing. We're trying to create an environment where people don't just run off to their dorm rooms and apartments and sit by themselves and do it. They go to a common space, sitting around tables and arguing with each other, really building a teamwork mentality."
The course combines tangible skills like coding and problem solving with a challenge to create systems, communities and relationships while thinking on a global scale. Dr. Ferrar excitedly rattled off the possibilities he believes lay ahead for these students.
"I don't know what they were envisioning when they made that first touch screen smart phone in Pasadena. But here's what it became: the thing that's had more attention on it than anything in the history of this planet," he said.
"Programming is an excellent way to build problem-solving skills in general," he said. "It requires you to start with a thing that you want to have happen, figure out the step-by-step procedure to get through it, rather than just feeling your way through and conjure a solution out of the ether. It's more abstract than just, solve this problem, but it's the same at every level, in my mind."
If it sounds like a culture change, it was intentional.
"The value we add is things like hands-on experience, working in groups," Dr. Ferrar said when describing the three primary focus areas of coding, community and generosity.
Dr. Ferrar noted that major companies like Google, Facebook "have their best ideas and they just give them away."
"That's an image of where they need to see each other. Engineering is very well marketed as the degree that earns 20 percent more than other majors for the same price. But If we can teach people, not that there's a right or a wrong place in society, but that there is a place. They should look for that."
Those projects students will work on? They won't be sold in the App Store, but rather offered free-of-charge.
"Imagine if the College of Engineering was known for producing more entrepreneurs than any other engineering school in the country," he said. And to him, students will start on that path through this shared experience.
"We're hoping to build a community that they can take with them, because the world just doesn't work by yourself anymore."
Follow the course:
Facebook page: Facebook.com/engr1102
Facebook group with all lectures streamed live: ENGR1102
Twitter/Instagram hashtag: #ENGR1102