Andrew Marsh, 2017 College of Engineering Gallery of Success honoree, shares what took him from North Broad Street to the C-Suite.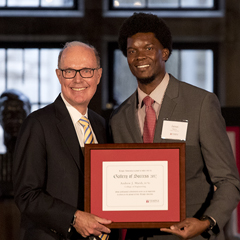 In speaking with the 2017 Gallery of Success honoree, Andrew Marsh ('82) you get a distinct sense of how Temple helped to shape a journey that took an engineering student from undergraduate class to the C-Suite, and his current position as President & CEO of Plug Power, a New York-based fuel cell manufacturer.
Marsh was among the notable alumni inducted into the Gallery of Success last week, the annual event organized by the Office of Alumni Relations and Career Center. The mission of the event is to highlight Temple graduates who exemplify the university's long-standing tradition of self-made success.
In addition to fondly recalling his professors and extra curricular work, Marsh rattled off how a diverse and dedicated student body influenced his professional life.
"That structure I had was so beneficial, both in my personal life and with being around very practical students who wanted to be successful, who were driven, from around the world," Marsh said. "It was critical to my career long-term, working with people from all different backgrounds and experiences. Temple has done that for me."
Marsh was joined by honorees from Temple University's 16 other schools, all who had reached similar peaks in their fields. They were celebrated by University leadership, including President Englert, and were inducted by current students, with senior engineering student Jamai Barros inducting Marsh.
Marsh reserved his final bit of praise for faculty—past and present.
"I just think that you have to give the professors at Temple at that time, and I'm sure today, a great deal of credit," Marsh said, when asked to put the evening into perspective. "I'm grateful I had professors who were interested in developing students. And to be honest, as you get older, you really appreciate it more."