Getting a Kick Out of Construction Project Management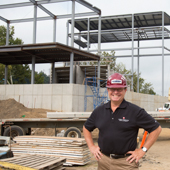 As he enters the Philadelphia Water Department's cavernous, recently poured 6 million-gallon underground sewage water holding tank on Manayunk's Venice Island, Don Bitterlich CE '76 says, "I never thought I'd go from rehabbing historic buildings and finishing off a Ritz-Carlton hotel to building the biggest crapper in Philadelphia."
The life of Bitterlich, however, a project manager for the Daniel J. Keating Company (DJK), has had many surprising turns. An accomplished German-music accordionist who still plays professionally, he wanted to major in music at Temple. Because athletes were barred from doing that, however, the scholarship soccer player opted instead for civil engineering.
Raised in Warminster, Pa., Bitterlich also had never attended a football game until, at the beginning of his junior year, he was recruited by Temple football coach Wayne Hardin to be the team's placekicker. Despite his inexperience, during the next three seasons the 2007 Temple Sports Hall of Fame inductee rewrote the university's record book and set six NCAA career and season records.
Next drafted by the Seattle Seahawks in 1976, Bitterlich scored the first points in that team's history with an opening-game field goal—yet was unceremoniously cut three games later after missing just three field goal attempts. After failing to latch on with the Eagles and two other NFL teams during the next two-and-a-half seasons, Bitterlich fell back on his civil engineering degree.
Since then, he has worked as a developer and/or project manager on some of Philadelphia's largest construction projects, including:
the $200 million Liberty Place II, the Shops at Liberty, its parking garage and Ritz-Carlton Hotel projectthe $260 million Kvaerner Philadelphia Shipyard projectthe $25 million new U.S. Post Office main building in Philadelphia and the $350 million renovation of the old post office building for the IRS regional headquarters.
"I like dealing with the logistics and the construction process: looking at what the architects and engineers intended with their plans and then executing it," he says. "I'd rather be building it than engineering it; it's more fun."
Starting first as a construction superintendent on a suburban housing development, Bitterlich's first significant break occurred in 1983 when he joined and eventually became a vice president of Historic Landmarks for Living, a Philadelphia firm that became the nation's largest historic renovation residential builder and developer. For 17 of the past 19 years he has been a project executive/senior project manager for two Keating family firms based in Montgomery County, the Keating Building Corporation and DJK, his employer since 2011.
Each day Bitterlich uses the engineering fundamentals he learned at Temple. He also believes the crucible he found himself in—particularly the fall semester his junior year when he was juggling classes, labs, soccer and football (he had to quit soccer midway through the semester)—uniquely prepared him for his career.
"What I really got out of Temple and that experience was how to manage myself and my time, how to problem solve and prioritize—basically how to be a business manager," he says. "I had to be able to get information from my professors and my classmates on homework problems and labs that I may have missed. I think it really helped develop me for what I do today as a construction manager, knowing how to work with people and reciprocate with them."
Since ground was broken in July 2011, Bitterlich has been DJK's project manager for the Philadelphia Water Department's Venice Island project. The main goal is to better handle storm water surges so that downstream treatment facilities do not become so overwhelmed that untreated waste water has to be released. But besides the mammoth underground retention basin, the project also includes: a 300-seat indoor performing arts center; a larger-capacity outdoor amphitheater; and botanical gardens.
Bitterlich and his project superintendent, Pat McGinnis CE '95, have had to organize the work of about 85 subcontractors and, per day, as many as 100 construction workers. Work flow and weather delays are constant issues. For example, the first steel beams for the performing arts center's 40-foot-high superstructure were delivered in mid-August. If his staff hadn't quickly realized they didn't meet required specifications, the planned September erection—and early 2014 completion date—would have been delayed.
"Every project has a war story," he says, "where something happens and it looks like it's going to be a fiasco. But you have to get through it—which again takes me back to what I really think I got from Temple. Being able to play sports and get through my classes and graduate and accomplish what I needed to do—on a different scale—is what I do every day now."
A devout Christian who taught Sunday school for 27 years, Bitterlich has two daughters: Lisa, a Fellowship of Christian Athletes missionary, and Elizabeth CLA '08, a J. Crew store manager in Boston. The Blue Bell resident also plays his accordion as many as six times per week in Mid-Atlantic German restaurants and beer halls. "I love to play," he says. "I get paid to have fun with a whole lot of people who are having fun, eating schnitzel and drinking beer.
What's bad about that?"
See Don at Homecoming!
Want to see Don Bitterlich bleed cherry and white? Attend the College of Engineering's Tailgate during Homecoming on Saturday, October 19th. Dressed in Temple attire and full face paint, each year he entertains fellow alumni with accordion versions of the Temple fight song and German folk songs.
Register here: alumni.temple.edu/Homecoming