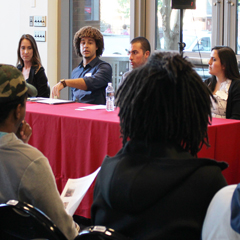 The fishbowl played host to a panel of engaging young alumni recently, as five recent graduates joined current engineering students for pizza and discussion about the launch of their early careers.
Jared Celona (CE '16, Amtrak), Megan Samar-Cassidy (ME '15, Exelon Generation), James Furman II (ME '14, SEPTA), Pauline Rusciano (ME '16, TE Connectivity), and Michael Senior (MS CE, '17, Schnabel Engineering) talked through interviewing, networking and critical "soft skills" they found useful with a university-wide Career Fair happening later in the week.
"Career Fair is actually how I got my full time job," Rusciano added. "I gave my elevator pitch, and made sure to tailor it to the company and what they need, and tried to ask good questions like how they (the recruiter) got involved in the company."
Samar-Cassidy agreed, adding that the search for a job doesn't end, even if you're happy with your current one.
"My senior year, I had a job lined up but I still went. You should always be looking," she said. "It doesn't mean you're unhappy. I used it as practice. I talked to professionals. Be engaging. Always have a crisp resume. I still carry one in my backpack today. You never know."
A handful of questions touched on the logistics of settling into your first job, like handling the unexpected.
"When you're new, it's flying over your head," Furman said. "Documenting every step is important. Whether it's your contractor, supervisors or other associates, they're going to be looking for details. They are relying on you to get things done, and it's not like homework where a 70 might be good enough. It's a little scary at first, but you get used to it."
According to the panel, participating in student and professional organizations is key to both selling yourself to potential employers, and delivering once you get the job.
"I basically obtained my first internship because of my involvement," Celona said. "That goes a long way with networking."
"Networking gives you a different perspective," Rusciano added.
Furman ended with a story about turning a negative experience (poor showing on his Senior Design project) into a positive, something that he was able to leverage when interviewing with his now-supervisor.
"Senior Design is your first shot to use a major engineering project to show your work," he said "The way I was able to deliver what went wrong and how to problem solve, the interviewer noted that they deal with those issues all the time. The scope changes. The budget goes over. You need to be able to handle that and not panic."
Panic, it seems, was not a trait for this group—an idea echoed by Samar-Cassidy.
"Just stay open minded and cut yourself a break. You won't know anything when you first come in to your job, just like you don't walk into college knowing things, and that's okay."
A special thanks to Melissa Mertes (WSP; CoE '15) and Charlie Mumford (AECOM; CLA '07 & CoE '15) from the Alumni Association for organizing the panel.
Are you an alum with advice or a story to tell? Contact Amy Krauss, Associate Director of Development, at amy.krauss@temple.edu.