Carrigan Braun, Mechanical Engineering, Class of 2017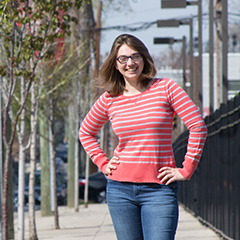 Last summer, when she worked on gas line replacement projects as an intern with Pacific Gas & Electric Company in San Francisco, Carrigan Braun relied heavily upon Google Maps to help her navigate through the city. This June, after graduating with a BS degree in mechanical engineering, she will be working for Harris Corporation in Melbourne, Florida. The mid-sized defense and commercial contractor builds some of the satellite technology that Google Maps relies upon to triangulate your location.
"I'm really excited," says Braun, who will be a mechanical engineer working on space systems and electronic packaging. "Harris is an innovative company. It's going to be both fascinating and challenging to work on space-related projects."
When Braun was a seventh-grader, she attended her first Girls Exploring Tomorrow's Technology (GETT) event with her mother. Over the next 6 years, this annual event—sponsored by the Chester County (Pennsylvania) Intermediate Unit—introduced her to a wide range of female engineers. She met one female who worked for 3M; one who worked for an organization that provided solar panels to African women to power both their cook-stoves and telephones; and another involved with cyber systems for the FBI.
"I was struck by how smart and intelligent these women were," says Braun. "They knew how to solve problems and they had been all over the world making a difference. I thought to myself, 'I want to do that too.'"
Braun is a four-year dean's list student and member of the Temple University Honors Program. At Temple, she also: held leadership positions with the Temple student chapters of the Society of Women Engineers and American Society of Mechanical Engineers; served for the past two years as a teaching assistant in the Introduction to engineering class; spent one summer as a nanotechnology research assistant in the college's Renewable Energy lab; and worked the past year providing IT support to the college's students and faculty.
"Since Temple's engineering program, unlike at some other schools, is located all in one building, you could be sitting in the library next to someone involved in electrical or civil or bioengineering," she says. "That builds an engineering community—which is something I want to carry forward wherever I go in my career," she says.